Independent UK energy provider First Utility has waded into the market with three home broadband plans undercutting prices from the Big Four providers.
First Utility say they will charge zero set-up or upfront fees as they take aim at the 15 million UK households currently out of contract with their broadband provider.
The energy upstart launched in 2008, quickly becoming the seventh-largest energy supplier in the UK.
First Utility broadband came along in October 2016 and at the time of writing is still only available to existing energy customers.
Their broadband service is being provided through a deal with major ISP TalkTalk, which uses the Openreach network of fibre and telephone cables.
Guide: What broadband speed do I need?
This means the quality of connection is dependant on TalkTalk's infrastructure, while customer service and contracts are in the hands of First Utility.
Just three unlimited download plans are on the table: all with 18-month minimum contracts.
First Utility offers three packages for home broadband – an ADSL connection called First Broadband up to 17Mbps for £18.99 a month; and two tiers of fibre broadband: Super First Broadband at up to 38Mbps for £31.99 a month and Ultra First Broadband up to 76Mbps for £34.99 a month.
These are the standard types of connection offered by the major fibre ISPs, but First Utility also boasts:
Line rental included
A free router
Free installation
Unlimited usage
A UK-based call centre
If you don't get your energy through First Utility you'll pay a little more for each of the three contracts. First Broadband will cost you £23.99 a month, Super First comes in at 39.99 a month, and Ultra First Broadband will cost £42.99 a month.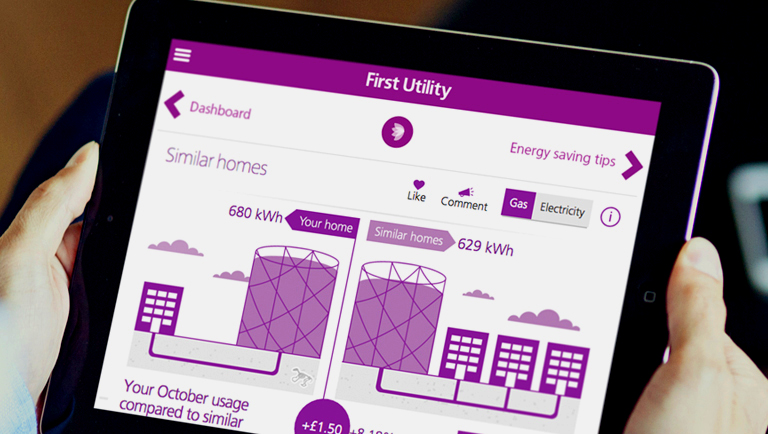 Guide: How important is your router? Is it even worth upgrading?
First Utility also promise that the cost of their broadband won't increase after the minimum-term contract expires 'unlike other providers'. The Broadband Unlimited package from Sky currently increases in price by £10 a month once its 12-month minimum contract runs over.
The main selling point of First Utility is the ability to bundle your broadband and energy bills into one contract.
Their broadband package prices are given a sizeable discount when included with a utility contract. For example, if you take out the fastest package, UltraFirst Broadband, it costs £42.99 a month for their non-energy customers, but if you bundle your broadband in with your energy bill, the cost goes down to £34.99 a month.
The convenience of lumping all your bills together may seem appealing but be aware that you may lose flexibility.
The truth is, one energy provider's electricity is as good as the next. This means it's important for consumers to shop around for the cheapest deal when their contracts expire.
The same can't be said for broadband – when it comes to internet, quality of service is usually far more important than price alone.
More: Why 90 per cent of customers can't get the broadband speed they're sold
Be aware before you start bundling your utilities into a single package because getting cheap gas doesn't necessarily mean you'll get good broadband.
But First Utility say their low-priced, straightforward tariffs on energy have given households greater control of their energy means far fewer customers end up out of contract.
Ed Kamm, the UK Managing Director of First Utility, said: "The parallels between the energy and telecoms markets are striking, with large swathes of households paying far too much for both services.
"We've proven that our approach of putting the customer in control results in more money in their pockets and we believe we can do the same with broadband. We've been successful in unsettling the Big Six in energy and our next target is the Big Four in broadband.
"The company sees a huge opportunity to extend this strategy into broadband, in order to deliver long-term savings across multiple services and make life easier for customers.
"This next phase of our business development will see us adding more diversified services to our portfolio while continuing to grow our domestic energy customer base. Broadband is the first step and is a natural extension of the business, building on our early history in telecoms."
See the best broadband deals you can get today